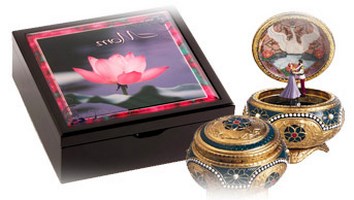 Favorites Music Boxes
The Sorrento music boxes in this collection are unique and special. They feature specific favourite themes. Most of them display a romantic theme. They have small handmade cozy containers that can be used to hold a ring, pendant or cuff links for your partner. As you know your partner well, you can choose his or her favorite them for a gift. However, there are music boxes that are fit to be used as gift objects on many occasions. The patriotic themed water glob music boxes are excellent gifts for war veterans and senior citizens who harbor strong national sentiments.
Sort By:
Min price:
Max price:
Items per page:
Height: 9.5"

Height: 4"

Height: 5.5"

Height: 3.75" Width: 9.50"

Height: 3.00" Width: 7.00"

Height: 3.00" Width: 7.00"

Height: 3.00" Width: 7.00"

Height: 4.50"

Height: 5.50"
Sort By:
Min price:
Max price:
Items per page: