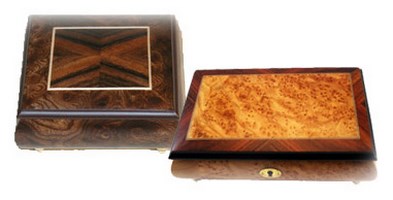 Ornamental Music Boxes
These music boxes will captivate your mind completely. They are made of wood and are polished to preserve the natural characteristic patterns formed by the grains of that particular wood. The result is extremely delightful. These Sorrento boxes are decorated with simple handmade designs which do not in any way overshadow the natural ones. The inside of these jewelry boxes are set with softest velvet material that can hold your jewelry securely. These Italian boxes form elegant looking gifts.
Sort By:
Min price:
Max price:
Items per page:
H: 2.50" W: 8.25" L: 5.25"

H: 2.00" W: 6.00" L: 10.50"

H: 2.50" W: 4.75" L: 4.25"

H: 2.75" W: 6.00" L: 10.5"

H: 2.75" W: 6.00" L: 10.75"

Height: 5.00" Width: 5.00"

H: 2.75" W: 6.00" L: 10.5"
Sort By:
Min price:
Max price:
Items per page: