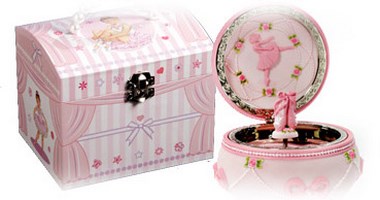 Ballerina girl music boxes
These ballerina music boxes and jewelry boxes are an embodiment of a little girl's dream.This music jewelry box collection is designed with an image of girl dreaming to be a ballerina. This item is sure to bring up warm childhood memories with an addition of a bit of luxury and style.
Sort By:
Min price:
Max price:
Items per page:
Height: 5.50"

Height: 5.75" Width: 3.75"
Sort By:
Min price:
Max price:
Items per page: