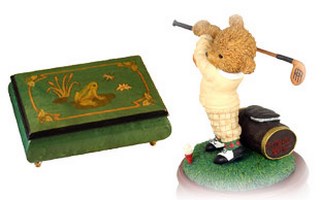 Baby & Children Music Boxes
These 18 note music boxes are inlaid with designs from the children's books and stories. These Sorrento boxes have 18 tunes. Some of them carry three dimensional figures of teddy bears. These are magnificently shaped jewelry boxes. Besides, some of these are shaped like toys and dolls. The Baby & Children music boxes are sure to delight your little ones. The music boxes which are included in this category are authentic products that are crafted by traditional Italian craftsmen. This is a suitable gift to a growing child because it will carry a lot of beautiful childhood memories for him or her.
Sort By:
Min price:
Max price:
Items per page:
Height: 6.50"

Width: 3.25"

Height: 6.25"

H: 2.50" W: 6.00" L: 3.50"

H: 2.25" W: 6.50" L: 4.50"

H: 2.50" W: 6.50" L: 4.50"

H: 2.50" W: 6.50" L: 6.50"

H: 2.50" W: 4.50" L: 7.00"

H: 2.50" W: 7.00" L: 4.50"

Height: 5.25"
Sort By:
Min price:
Max price:
Items per page: