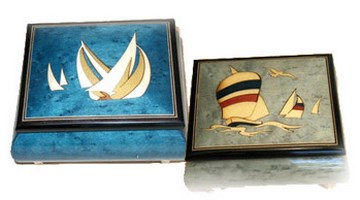 Nautical Music Boxes
The nautical music boxes are jewelry boxes made of wood and finished with lacquer polish. They depict sea with boats sailing calmly on it. The exterior of the music box presents a calm and cool ambience, which has a tranquilizing effect on the viewers. The dark colored edges make the lids of these boxes look like an exotic panting frame. The interior velvet bed houses the ornaments safely. The magnificent sea is hand-painted on these Italian art pieces. The nautical Sorrento boxes are wonderful creations and hence wonderful gift articles.
Sort By:
Min price:
Max price:
Items per page:
H: 2.50" W: 4.50" L: 3.50"
Sort By:
Min price:
Max price:
Items per page: