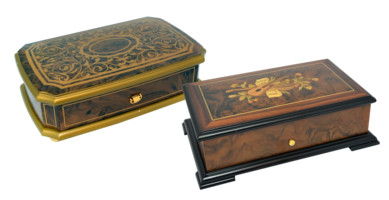 Luxury Reuge Orpheus Music Boxes
These music boxes are somewhat large creations. They also possess 72notes music. These luxury music boxes are created using first rate wood. The natural grain formations on the wood give the music box a special charm. The intricate golden designs on them are evidences of excellent Italian artistry and further increase their beauty. These Sorrento Music boxes are very elegant jewelry boxes which are worthy of precious jewels. They can serve as enchanting gift items.
Sort By:
Min price:
Max price:
Items per page:
H: 4.50" W: 6.50" L: 9.50"

H: 3.50" W: 6.50" L: 10.00"
Sort By:
Min price:
Max price:
Items per page: