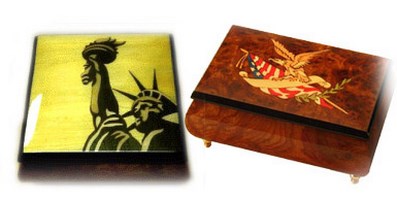 Patriotic Music Boxes
The Patriotic Music boxes are jewelry boxes that feature distinct Americansymbols like the eagle, American flag, the statue of liberty etc. Even the war ship and fighter plane have found place on the lids of these music boxes. These are articles that advertise the superior Italian workmanship. All these 18 note Sorrento music boxes are crafted to hold precious jewelry. The interior of these boxes are made of soft velvet. They are beautifully lacquer-polished and extremely authentic items that can be used as gift articles.
Sort By:
Min price:
Max price:
Items per page:
H: 2.25" W: 5.25" L: 7"

H: 2.25" W: 4.25" L: 4.75"

H: 2.50" W: 4.25" L: 4.75"

H: 2.50" W: 6.00" L: 4.25"
Sort By:
Min price:
Max price:
Items per page: