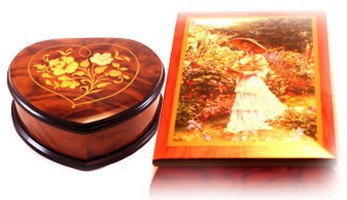 Ercolano Music Boxes
The ercolano music boxes are made of finest wood. These music boxes are crafted in different shapes. There are rectangular, round and heart shaped boxes. The inlays on these Italian music boxes are highly imaginative. They are hand-painted with still life, floral designs and a number of romantic designs that feature heart shapes which are decorated with flower designs. These Sorrento boxes can be used to store jewelry or some precious souvenirs. They are excellent gift articles. They can form very meaningful Valentine's Day gifts for your life partners.
Sort By:
Min price:
Max price:
Items per page:
H: 2.75" W: 7.00" L: 6.00"

H: 2.5" W: 4.75" L: 4.00"

H: 2.50" W: 7.00" L: 6.25"
Sort By:
Min price:
Max price:
Items per page: